Uruguay's Secret to Success in Combating COVID-19
S. Pelin Berkmen and Natasha Che
On June 29th, when some 250,000 students returned to classrooms in Montevideo, Uruguay reached a post-COVID-19 normalization milestone that is still a distant aspiration for most of Latin America. While the virus still rages on throughout the Americas, Uruguay's daily count of new cases had been in the single digit for most days since May, despite the recent incipient outbreaks.
And what is most amazing: Uruguay, the country with the highest percentage of population over 65 years old, which is the age group most at risk from the pandemic, did it without a mandatory lockdown. What made Uruguay, up to now, so successful in containing the epidemic? And what can other countries learn from its experience?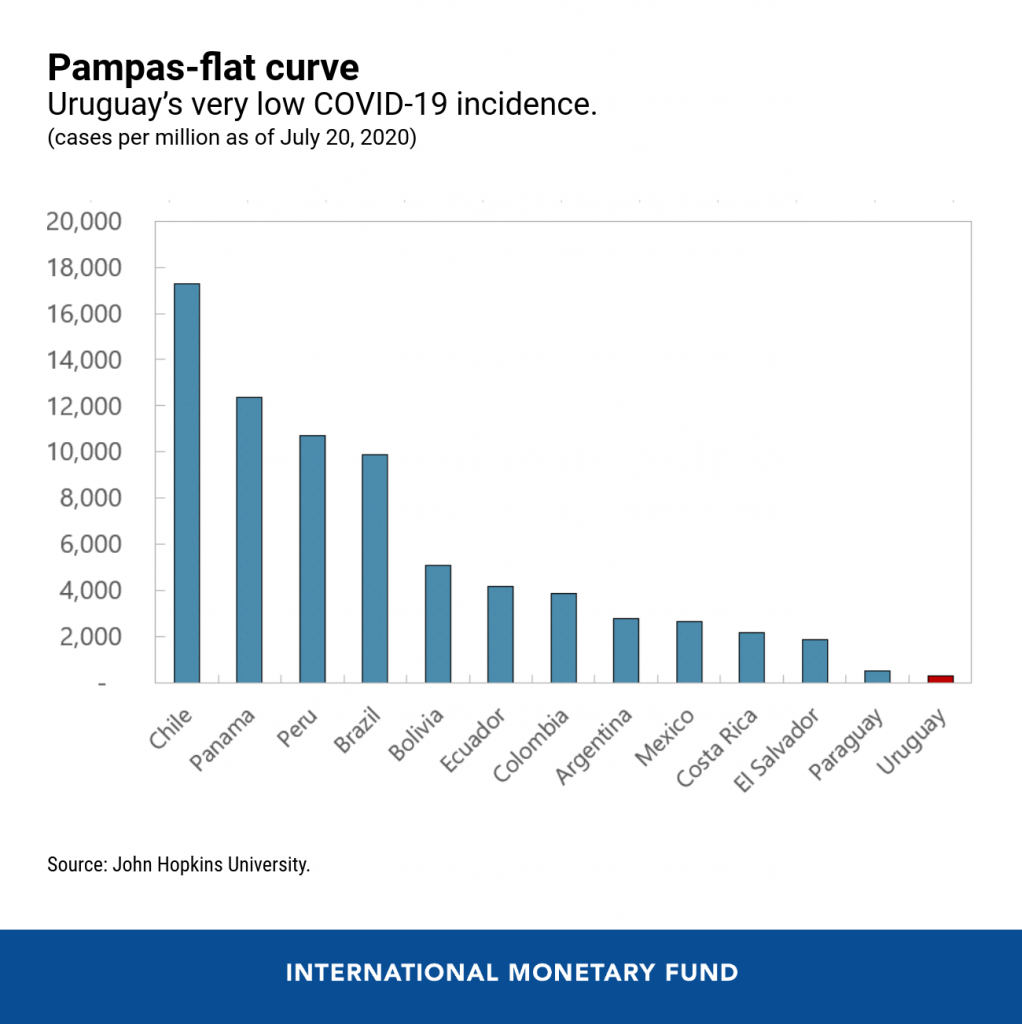 Move fast and listen to the scientists
Uruguay took COVID-19 seriously early on. When the first four imported cases were confirmed (March 13), the government, which had assumed power only 2 weeks before, announced a national health emergency, implementing measures such as cancelling public events, partial closure of borders, and mandatory quarantine for travelers coming from highly infected countries.
The following day, an awareness campaign on best health practices and hygiene protocols was launched, and a presidential decree cancelled schools and closed large shopping malls. The government also conveyed a scientific advisory group headed by top medical experts and coordinated actions with the private sector.
Early testing and monitoring without complacency
The speed at which measures were adopted and the scientific guidance were two main characteristics of Uruguay's COVID-19 response. It started testing early and in large scale, developing its own diagnostic tests and contagion tracking technologies. Combined with community tracing in outbreak areas, this facilitated timely detection of the virus spread.
Uruguay has one of the highest testing coverages in Latin America, despite one of the lowest infection rates. Preventative measures, such as encouraging use of masks, were also implemented much earlier than elsewhere in the region. The government publishes daily updates, and uses mobile apps, chatbots and social media to ensure that the public is properly informed about the pandemic. The Coronavirus UY mobile application, developed by Uruguayan programmers, allows the monitoring of cases and issues alerts when users are in close contact with persons tested positive.
Unity of purpose
A high level of social cohesion and public trust in government ensured widespread support for containment measures and deep penetration of public awareness campaigns encouraging the population to work from home and business to close their doors. While most measures were not mandatory, various industry associations and labor unions reached voluntary agreements to temporarily shut down activities in sectors such as construction and retail. Even the tourism sector, through one of its main business chambers, joined and, against their own business interest, called on citizens to stay home during the traditional April week vacation.
The various economic measures adopted included the creation of the Coronavirus Fund, which transparently allocates and reports budgetary resources to respond to the health emergency, maintaining control and accountability for where and how the money is spent. This fund, partially financed through the temporary reduction of the salaries of the President, ministers and highest paid public officials, gained the support from the entire political spectrum and was passed unanimously in Parliament.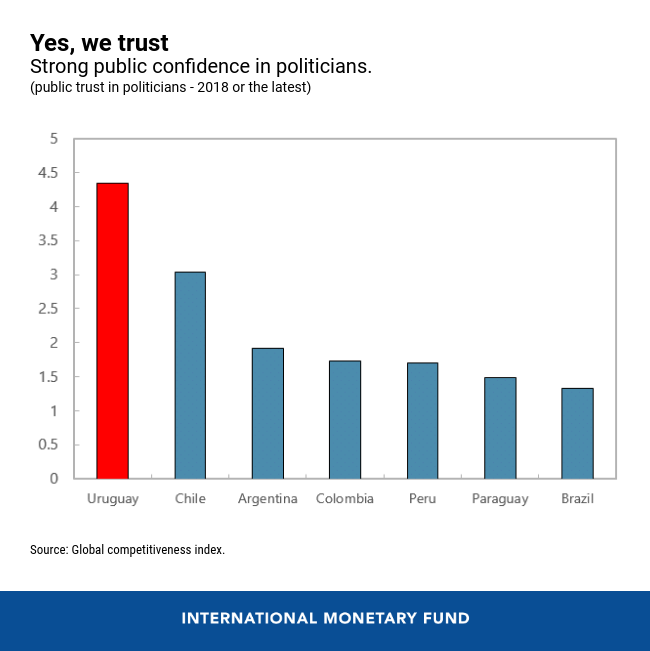 Quality healthcare and comprehensive social safety net
The broad coverage of health infrastructure also contributed to Uruguay's success. Health-related expenditure is over 20 percent of general government expenditure, compared to a Latin America average of 12 percent. Healthcare is free for the most vulnerable population. There are over 5 physicians per 1,000 people, according to 2017 data, compared to 2.3, on average, in the region. Although the availability of hospital beds is also one of the highest in the continent, steps were taken quickly to increase the number of intensive care units and ventilators.
Having one of Latin America's most comprehensive social protection systems has helped Uruguay protect both the health and the finances of its most vulnerable population. The efficient operation of automatic stabilizers such as health and unemployment insurances provides medical assistance and income support to broad segments of the society. A key decision was to extend the sickness benefit to all workers over 65 in the private sector, so that they could stay home.
Though rising since 2018, Uruguay's poverty rate—particularly for elderly—remains lower than the regional norms. So are income inequality and informality. This virtuous combination may have helped curb the pandemic's spread, along with other factors such as low population density, particularly outside of Montevideo, the nation's capital.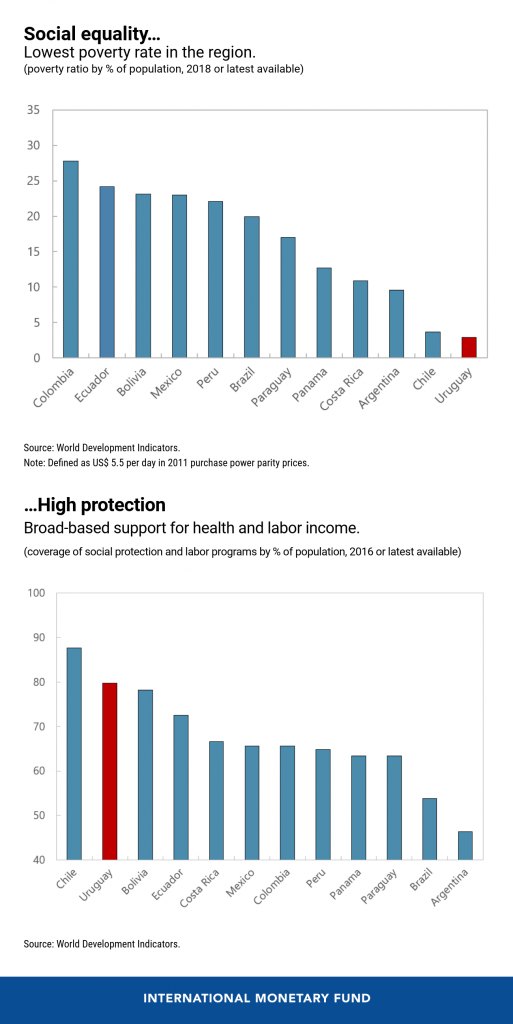 Overall, Uruguay's secret to success is actually not a secret at all. It is reaping the benefits of long-standing institutional strengths, an emphasis on welfare economy, social cohesion and individual freedom with social responsibility. Uruguay's strong democratic tradition allows its citizens to trust the guidelines and recommendations of public health policies, which led to high compliance with voluntary quarantine measures and adherence to social distancing rules. Building on these blocks, the government's decisive, early, transparent, inclusive, and science-based response has allowed Uruguayan parents to breathe a collective sigh of relief as their children head back to school.
Photos/Ilustrations:
Pnud Uruguai/Pablo La Ros Because of the good result, 250 thousand students were able to return to classes on June 29