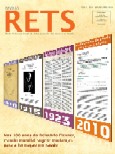 In its ninth edition, RETS magazine mentions quite briefly the report of the Independent Commission on the Education of Health Professionals for the 21st Century, published in the Lancet in November 2010. Just as it did at the turn of last century, the document marking the centenary of the publication of the Flexner Report gathers a situation analysis and several proposed changes for the education of health professionals.
The idea of the report is that, despite having been instrumental then, the medical education model proposed by Flexner no longer meets the current health needs and that we need to think of a health education model that is most suited to the new century. An interview with one of the presidents of the Commission, former health minister of Mexico and current dean of the School of Public Health from Harvard University, Julio Frenk, completes the article and may add some elements to the debate.
It is important to highlight that the release of the report does not mean full agreement or full unrestricted support to proposals submitted by Commission members, but simply a commitment to bring to the Network discussions pertinent to its field of action. Our intention is to disseminate the existence of the document in order to stimulate reflection and debate on the many issues addressed and concepts used. Our proposal is to open a space for all who wish to express themselves, either through the website or in the future issues of the magazine.
Also in this issue of the RETS are: an article about the Second Global Forum on Human Resources for Health held in January in Bangkok, Thailand, with the full text of the final declaration of the event; and the last part of the series that gathered some discussions held at the Virtual Forum on Health Technicians, which occurred in May last year and whose final report was also released recently by the Global Health Workforce Alliance (GHWA).
Completing the publication is a story about the Health Professional Education Specialization Course for the PALOP, whose first presential stage was held in Guinea-Bissau, from February 23 to March 4. The course is one of the activities foreseen in the Work Plan of the Health Technical Schools Network of the Community of Portuguese Language Countries (RETS-CPLP), a sub-network of RETS.
Happy reading!
RETS Executive Secretariat