Good Practices in South-South and Triangular Cooperation in the Context of Food Security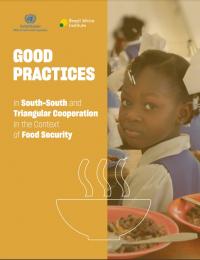 Review / Summary:
This publication was compiled and developed by the Brazil Africa Institute (IBRAF).
The views expressed in this publication are those of the author(s) and do not necessarily represent those of the United Nations, including the United Nations Development Programme (UNDP) or United Nations Member States. The designations employed and the presentation of material on maps do not imply the expression of any opinion whatsoever on the part of the Secretary-General of the
United Nations or UNDP, UNOSSC concerning the legal status of any country, territory, city or area or its authorities, or concerning the delimitation of its frontiers or boundaries.