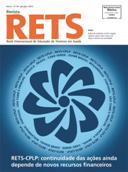 Dear reader,
Finally we are back after a long period away. Our sincere apologies for those who missed the magazine. Unfortunately, too many commitments (some unforeseen), eventually affected our work, dividing our attention. Now, with the new website up and running, the flow of work reorganized and extended team, we begin to catch up.  
In this issue, the focus is on the 1st Extraordinary Meeting of RETS-CPLP, held in Lisbon, Portugal, in April. The meeting, which reflected a significant step forward in consolidating the Network created in 2009, also brought an impasse: how to carry out the actions contemplated without the proper financial resources?  
The magazine also features an article about the ongoing Health Sector Reform in Peru and shows that, despite facing many internal criticism and many questions of some segments of society, the process goes moving forward with the promise to bring more health for the population.    
With regard to the health technicians´ education, we are back with the third part of the series on the role of the curriculum in the construction of knowledge and professional identities, bringing, among other things, a brief overview of the post-critical theories of the curriculum.  
In the Network News, we present the last two members: the School of Health Technology of Coimbra (Escola Superior de Tecnologia da Saúde de Coimbra - ESTeSC) and the Directorate of Human Development in Health in Chaco Province, Argentina. Furthermore, we highlight, with much anticipation, the initiative of the School of Health Technology of the University of Costa Rica (Escola de Tecnologias em Saúde da Universidade da Costa Rica - ETS/UCR), the first headquarters of the Executive Secretariat of RETS, to promote a process of strengthening the Network in the Central American region and Caribbean.  
Finally, a small story, written in collaboration with journalist Yesmin Tibocha Patiño, of SENA (Colombia), on a traveling course of prevention and first aid in accidents with landmines, a major concern of health authorities in some regions of the country.  
Have a nice reading!
RETS Executive Secretariat