Breast cancer awareness, screening and treatment save lives, Paho experts say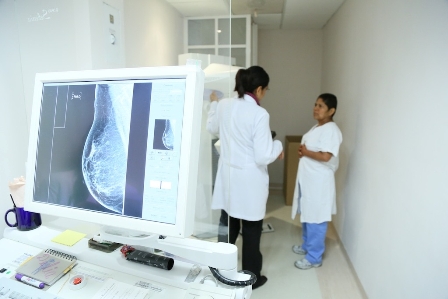 Early detection and treatment of breast cancer can save the lives of thousands of women in the Americas, experts from the Pan American Health Organization/World Health Organization (PAHO/WHO) stressed at the start of Breast Cancer Awareness Month, an annual international health campaign by major breast cancer organizations to increase awareness of the disease.
"Breast cancer can be detected early and treated effectively," said Silvana Luciani, PAHO/WHO regional advisor on cancer prevention and control. "The challenge is to provide equal access to quality screening and treatment services, especially in areas where resources are limited."
Women of all ages need to be aware of the signs and symptoms of breast cancer and understand their risks. For women ages 50 to 69, the lifesaving benefits of mammography are clear, Luciani said. But women need to understand the benefits and risks of mammography to make informed decisions. The recommendation, along with the supporting scientific evidence to undergo mammography screening every 2 years starting at age 50 and until age 69, is explained in the recently released WHO position paper on mammography screening.
In the Americas, breast cancer is the most common cancer in women and the second leading cause of cancer deaths in women. An estimated 400,000 women were newly diagnosed and more than 92,000 women died from breast cancer in the Americas in 2012. The number of new cases is expected to increase by 46% in the region by 2030, if current trends continue.
Early diagnosis of the disease coupled with treatment, however, definitively saves lives. Most women who are diagnosed with early stage (I and II) breast cancer and receive treatment can expect a favourable outcome, with 5-year survival rates of 80% to 90%.
While the causes of breast cancer remain largely unknown, risk factors include age, family history of breast cancer, early age at menarche and late age at first childbirth, hormone use, obesity, and alcohol consumption. Breastfeeding, physical activity, late menarche, early pregnancy, and early menopause are all protective factors against the disease.
PAHO/WHO is working with its Member States and partner organizations, through the Women's Cancer Initiative, to mobilize all sectors of society and support countries in the following areas:
To advocate for women's cancers to be high on the public health agenda of countries;
To educate, inform and empower women to seek early preventive health care;
To ensure that services are available, affordable and accessible for women's cancer screening, diagnosis, treatment, and palliative care; and
To engage in partnerships with other advocates for women's health to improve the situation for women's cancers in the region.