EPSJV promotes workshop on the role of technicians in the generation and use of health information and records
Julia Neves - EPSJV/Fiocruz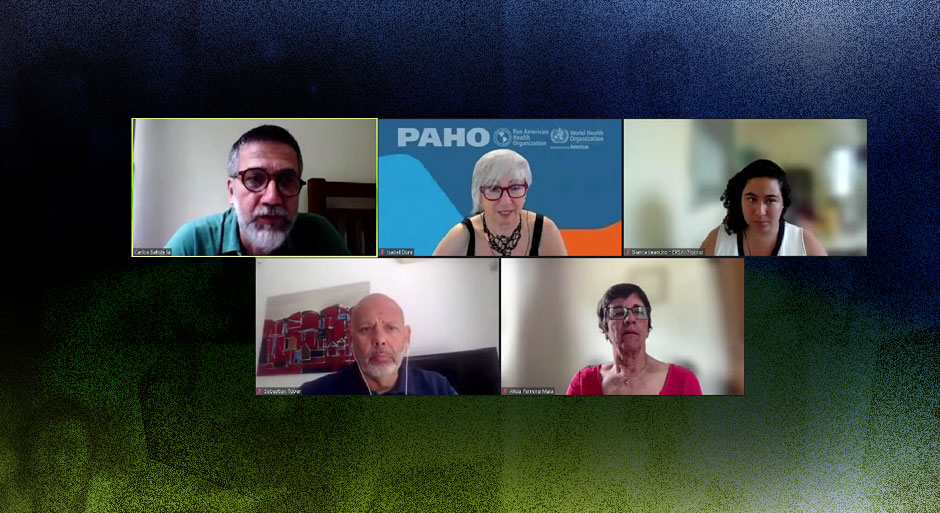 As part of the work plan as a World Health Organization (WHO) Collaborating Center for the Education of Health Technicians, the Joaquim Venâncio Polytechnic School of Health (EPSJV/Fiocruz) promoted, on December 12th, the fourth event of the Cycle of Workshops 'The training and work of health technicians in the post-Covid world'. The initiative is held in cooperation with the International Network for the Education of Health Technicians (RETS), the Ibero-American Network for the Education of Health Technicians (RIETS), and the Network of Technical Health Schools of the Community of Portuguese-speaking Countries (RETS-CPLP). The event also has the support of the Center for International Relations (Cris/Fiocruz) and VideoSaúde Distribuidora of Fiocruz.
The theme of the event was the role of technicians in the generation and use of health information and records that make up the health information systems of their countries. Present at the event were Isabel Duré, consultant in Policies and Management of Human Resources for Health of the Pan American Health Organization (PAHO/WHO); Alicia Madalena Ferreira, from the School of Economics and Administration at the University of the Republic (FCEA/Udelar) in Uruguay; and Bianca Leandro, research professor at EPSJV.
Opening the event, the meeting's mediator, Sebastián Tobar, Cris/Fiocruz advisor, welcomed everyone and thanked the guests for their presence.
Next was the turn of Carlos Eduardo Batistella, coordinator of International Cooperation at the Polytechnic School. In his speech, he pointed out that the objective of the workshop is to promote the discussion of some theoretical and practical aspects of the theme of health information and records, based on the presentations of our guests. "We intend to evaluate how the work of health technicians is related to this theme and to what extent the training of these workers has contributed to improving their relationship with health information systems," said Batistella.
According to him, the ability to cope with health emergencies increases greatly in countries that have well-structured information systems. Moreover, he recalled that during the Covid-19 pandemic, the need to work with accurate and timely data became even clearer. "The definition of protocols and appropriate strategies for dealing with health emergencies depends heavily on the production of this scientific evidence," he said. He added: "It is essential that health workers at all levels understand the role of health information systems and are trained to contribute to the construction of tools for the correct capture of data and information processing."
Health information and records: the technicians' role
"We are at a time when the volume of information has increased. Each time we have more data and each time we have more difficulty in processing this data", said Isabel Duré, as she began her presentation. According to her, it is necessary to consider information systems as open and complex systems, because this allows for a better understanding of health problems. "Think of information systems in an open way, see them in their totalities and with their limits. It is important to recognize that these systems are part of other subsystems, to think about the links between these systems and how we can use them with greater fluidity, and then, of course, we will have better quality data," she said.
Isabel also highlighted the need for training and qualification of workers to work in these information systems. "Today, all health workers are suppliers and users of these systems. There is no one who does not use or generate data. So we believe that a training and capacity building strategy should be developed," he said, explaining: "Workers at all levels should be able to receive a minimum training and technicians should have the skills to be able to work with this dimension of data.
About the Uruguayan context, Alicia Madalena Ferreira spoke that it is indispensable to have training for technicians and graduates with specific knowledge in health information systems. "These workers are independent and dedicate their time to this. This is not the doctor's job, his time is not for coding and improving the systems. This task has to be done by someone who is exclusively dedicated to this, as happens in Uruguay," she said.
In addition, Alicia highlighted the need to integrate these technicians and graduates in multidisciplinary teams that develop, implement, and generate these health information systems, with the goal of improving the quality of records and, therefore, the results. "However, there needs to be continuously updating and ways to strengthen the training of these professionals, with current technological tools to keep up with the changes in these information systems," she criticized.
Finally, Bianca Leandro stressed that any kind of information will always be a limited representation of an event, because, according to her, no information can cover everything. "In the health field, we need to think about how to aggregate as much information as possible to reduce the uncertainty of action, because when we talk about health, we talk about lives," she said, adding that health information is not produced or processed outside a context or environment mediated by actors, organizations, and technologies.
For Bianca, even if you have information that is considered accurate, it doesn't necessarily make demands. She explains: "Because the area of health information and records is permeated by distinct values, intentions, particularities, and worldviews. This permeates the use and processing of data.
About some challenges, Bianca listed that it is necessary to recognize health information and records as structuring health systems and not only as instrumental aspects. "It may have an administrative bias, but it is also a component of health care," she said, concluding: "We must also recognize the technical professional as a protagonist in the data production process, articulating the joint reflection between training and work.
Watch the complete workshop (in spanish)
Look the presentations:
Presentation -  Alícia Ferreira