Global Health Workforce Alliance will have a new executive director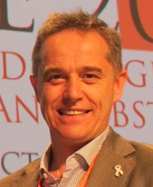 The Global Health Workforce Alliance (GHWA) announce the appointment of James Campbell from United Kingdom (UK) as Executive Director, GHWA and director of the Health Workforce Department, at the World Health Organization (HWF/WHO) effective 1at July 2014.  Campbell is currently Director of Instituto de Cooperación Social Ingrate (ICS Integrare), a not-for-profit research institute working to reduce social inequalities and inequities that affect health, education and prosperity.
Campbell has worked as a specialist researcher/advisor on Human Resources for Health for governments, United Nations agencies and philanthropic foundations, including World Health Organization (WHO), GHWA, United Nations Population Fund (UNFPA), World Bank, Department for International Development (UK DFID), North American Aerospace Defense Command (Norad) and Bill & Melinda Gates Foundation BMGF (BMGF). Previous collaboration with WHO and GHWA includes work on the Global Code of Practice on the International Recruitment of Health Personnel (2010), WHO policy recommendations on Increasing access to health workers in remote and rural areas through improved retention (2010) and A Universal Truth: No Health Without a Workforce launched at the Third Global Forum on Human Resources for Health in Recife, Brazil (2013).